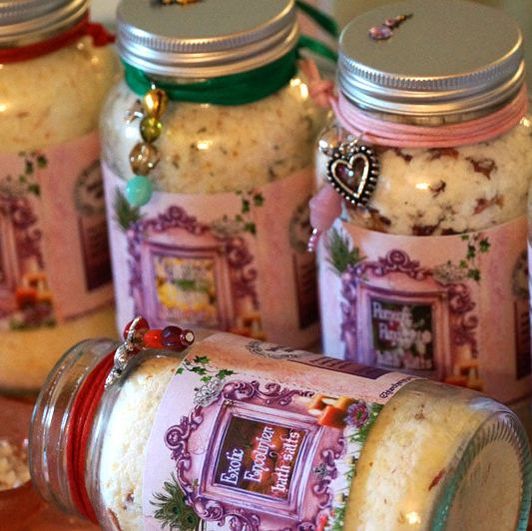 Luxury Dead Sea Salt With Organic Essential Oils.
Add a touch of luxury to your bath time and treat yourself or someone special to a jar of these wonderful dead sea salts that heal, relax and detox you as you soak, along with the delicious aromas from the organic essential oils you will be in heaven.

Four exciting fragrances to choose from, each to set a different mood, depending on your requirements.

Calming Caress is a healing and relaxing blend of lavender, chamomile and mallow flower.
Exotic Encounter is a fruity yummy delight with mandarin, orange and sandalwood.
Romantic Rendezvous is a romantic sensual blend of rose and jasmine.
Uplifting Utopia is a refreshing blend of tea tree, peppermint and lemon.

Each jar comes beautifully decorated with ribbon or cord, bells, charms and free bindi on the lid which can be used, or just leave to decorate your beautiful jar that will look fantastic in your bathroom.

These make excellent gifts not just to your loved ones, but also to yourself.

250g glass jar.
£12.95